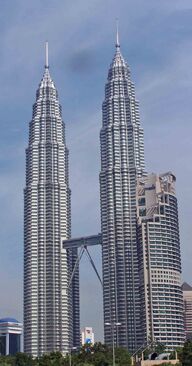 The Petronas Towers are 451.9 meter high skyscrapers in Kuala Lumpur, Malaysia.
Description
The towers are known best for their twin design and recognizable for the bullet-like appearance, with a bridge connecting the towers about half the way up the towers. The towers are identical in appearance and each have 88 floors. Construction started in 1993 and were completed in 1996. The towers were renovated in 1997.
Information
Name: Petronas Towers
City: Kuala Lumpur
Country: Malaysia
Height: 451.9 meters (1,482 ft)
Status: Built
Built: 1996
Floors: 88 (Basement Floors: 5)
Use: Office (observation)
Construction time: 5 years (1993 - 1998) (renovated in 1997)
Construction Types: Highrise, Bridge, Pole
Floor Area: 341,760 m²
Matreials: Glass, steel, aluminium
Architectural Style: Pagoda style, postmodern
SSP Image: Image
Ad blocker interference detected!
Wikia is a free-to-use site that makes money from advertising. We have a modified experience for viewers using ad blockers

Wikia is not accessible if you've made further modifications. Remove the custom ad blocker rule(s) and the page will load as expected.