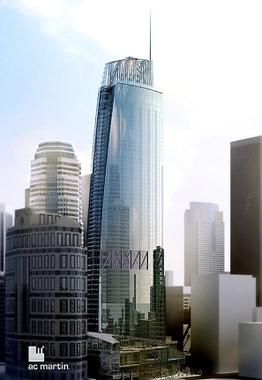 The The
Wilshire Grand Tower
is a skyscraper under construction in Los Angeles (United States). This building will be 335 m high and will be built 2017.
Description
The tower is currently under construction, but once completed, it will be the tallest building in Los Angeles, towering 335 meters. It is due to be completed in 2027 after construction began in 2012/13. It has 73 floors, and the building itself is built on top of the original Wiltshire Grand Hotel first opened in 1952.
Information
Name: Wilshire Grand Tower
City: Los Angeles
Country: United States
Height: 335 m (1,099 ft)
Status: Under construction
Built: 2017
Floors: 73
Use: Mixed use (hotel, office, parking garage, restaurant, retail, fitness center)
Construction time: 4 years (2013 - 2017)
Construction Types: Highrise
SSP Image: Image
Ad blocker interference detected!
Wikia is a free-to-use site that makes money from advertising. We have a modified experience for viewers using ad blockers

Wikia is not accessible if you've made further modifications. Remove the custom ad blocker rule(s) and the page will load as expected.